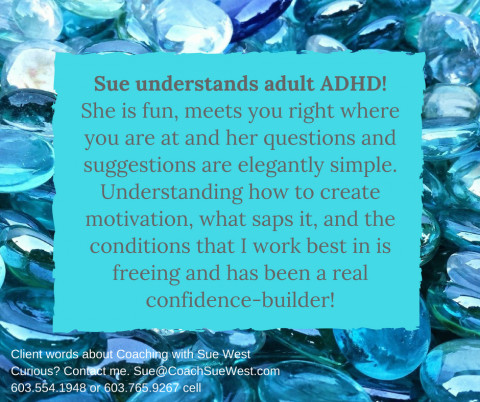 I have three areas of focus: Adult ADHD/executive function differences; Self Employed/Work at Home; and In Transition.
**TIME MANAGEMENT, ADULTS WITH ADHD (or who have similar symptoms)
Anything familiar here? You feel distracted.
Not getting enough done – as much as you think you could. Chaotic days.
Organization and productivity: one big struggle.
Trouble starting tasks, knowing your priorities, and working the plan when you have it. Sticking with the high priorities.
Transitioning: into Mondays, in and out of tasks, getting to work or appointments on time.
Your mind is way too busy, filled up with so many things. You're forgetful and can't always rely on your working memory.
Your spouse is frustrated with your seeming lack of caring or responsibility.
You're self-employed and don't feel like you're living up to your potential, so you're nervous the business may suffer.
Or you work in a company and your manager doesn't understand how you think or what you need, so you're not on the same page.
**BIG LIFE CHANGES. You're going through some big life changes, transitions, on your way to a next chapter - which you may have a sense of or may be totally unclear. It's normal to be overwhelmed. Even if you're normally on top of things.
Major life changes and you need to get unstuck and move forward.
You can't quite get your mojo back. Your energy is down. You're floundering.
You've started a new chapter yet it's difficult to absorb all this change at once.
You're care-giving, supporting parents, overwhelmed by parenting/kids/work ...
Your time is "a mess" as you might say, even if you're normally quite organized.
You need a roadmap. We create that, together. Literally, schedules, some type of system to keep track of all the "stuff" to do, SO THAT you can feel in control, making intentional choices about your time and sticking to whatever boundaries are comfortable for you, including how to say "no" in different ways with no guilt!
SHORT BACKGROUND ON ME:
Experience in corporate, non profit, self employment.
Made it through LOTS of big life changes in 14 months - and thriving.
Certified in coaching and organization.